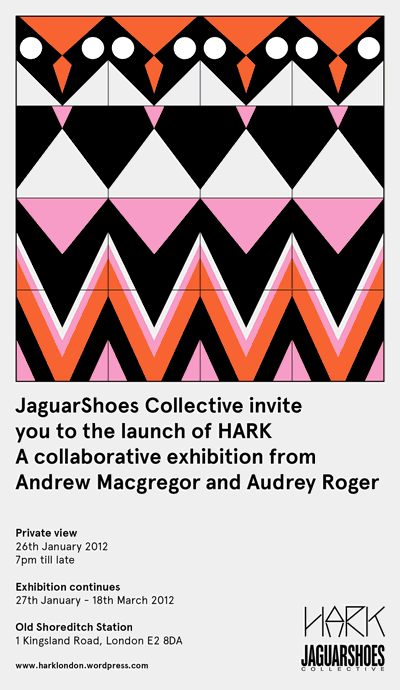 You will have noticed a few posts recently in preparation and build up to Andy

Macgregor

and Audrey Roger's joint venture and exhibition "Hark". The graphic pattern paper totem poll pieces have finally been transported from nestling in the storage nets at their studio and been installed at The Old

Shoreditch

Station gallery. The show opens this evening and runs till the 18

th

March with a stop-frame animation and posters produced in conjunction with the actual

artifacts

assembled. Its an army of precision cut cardboard cubes arranged in

tessellating

formations to configure abstract

stalactite

and

stalagmite

sculptures hinged to reflective silver surfaces added for a mind bending infinity effect. Drop in for a

maccihato

and enjoy the experience of sitting amongst a myriad of magical futuristic

Mayan

inspired interior design.........

HARK at Old

Shoreditch

Station, 1

Kingsland

Road, London, E2 8DA

(Top 2 photos: Andy & Audrey studio pics by Hark)